Make the Cents
Make Sense

for your Business

You deserve a checking account that makes life easier for you and your business. Learn how an OKCU business checking account can do that for you.
Benefits of an OKCU Checking Account
Here are a few of the reasons to enjoy a business checking account.
Low opening deposit
Open an account with as little as $500
Low balance requirement
The minimum balance requirement is $500*
Interest-bearing
The bigger the balance, the more interest you earn
Free transactions
You get 150 free transactions per month.** After that, it's $.20 for each transaction 151-200 and $.40 for each transaction beyond 251.
Real-time account transfers
24/7 access with Digital Banking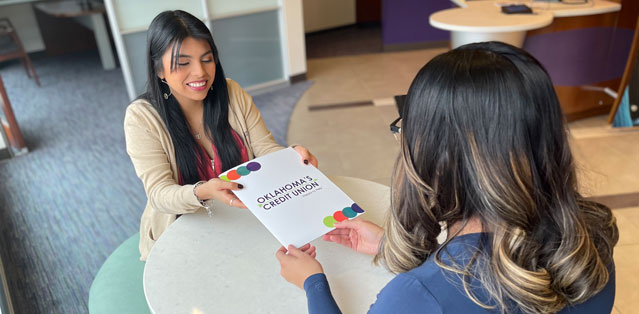 Schedule an appointment to discuss your business needs with an OKCU team members. Bring all of your questions and talk through next steps that make sense for you and your business.
*
A $10 fee applies if your balances fall below $500. For additional details, please review the current Business Rate and Fee Schedule.
**
Transactions include: deposits (in person or at the ATM), withdrawals (in person or at the ATM), cleared checks, checks deposited, ACH debits and ACH credits. Transactions do not include internal transfers or debit card transactions.