Rewards Checking
Want to earn rewards when you shop? Say no more. Get rewards points on everyday purchases and redeem those points to use at your favorite shops and restaurants.
A Checking Account that
Rewards You

for Everyday Transactions

With the Rewards Checking account, you can enjoy the convenience of a debit card and the benefit of earning rewards. It's easy to redeem reward points for cash back and gift cards to your favorite local businesses, including OnCue Express and Crest Foods, as well as popular national retailers like Amazon.

Earning points is easy! Use your Rewards Debit card for recurring monthly transactions like Netflix or Hulu to rack up your reward points even faster.
Benefits of an OKCU Rewards Checking Account
Learn why a Rewards Checking account is right for you.
Round Up
Every transaction will round up to the next whole dollar and deposit the change to your Savings account.
Online account access
Perform transactions, view statements and deposit checks with Digital Banking
Enhanced account security
Get real time text or email security alerts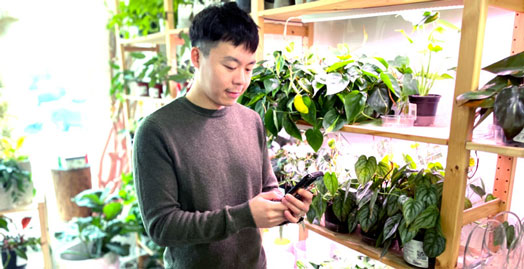 24/7 Checking Account Access
All OKCU checking accounts include access to 24/7 Digital Banking. Create custom alerts, sync third-party accounts, send money with Zelle®, view your credit score and more with Digital Banking.
Pool Your Rewards Points
Earn rewards points faster with a Rewards Credit card!
Get started today
Opening an OKCU Rewards Checking account is easy. Follow the steps below and you'll be using your new checking account in no time.
1
Open an account online using the link below
2
Complete the short application
3
Pick up your debit card or have it mailed to you
Enjoy your new checking account and start earning rewards points
Check out our latest Okie Life blog articles to learn more about how you can do more with your money
*
Minimum of 25 debit card purchases (in person or online, excludes ATM) each month or a $10 monthly fee will be pulled from the checking account. If you have the Rewards Credit Card, this monthly fee will be waived. $25 minimum opening deposit. No minimum balance requirements after your initial opening deposit. $27.50 per Courtesy Pay occurrence and you may have multiple occurrences on the same day. Your fees count against the Courtesy Pay limit. Account must be open 60 days for Courtesy Pay. Balance must be made positive within 30 days or account may be closed. Courtesy Pay will be suspended if account is negative 30 days or if loan is 20 days past due. Courtesy Pay may be reactivated once account has been positive for 30 days. Courtesy Pay is not guaranteed and could be revoked at any time without prior notice.
How You Earn Rewards Points:
Cardholders will earn one point for every four U.S. dollars ($4) in eligible net purchases. "Net purchases" are defined as the dollar value of goods and services purchased beginning with the first day of the month that includes the Enrollment Date, minus any credits, returns, or other adjustments as reflected on monthly billing statements. Negative points will post on a statement if returns or credits exceed purchases.
Transactions excluded from point calculation include: (a) ATM withdrawals (b) any fees and card-related charges posted, including ATM fees, over-limit fees, and monthly fees; or (c) any unauthorized charges or transactions.
Points may be earned only if the applicable account is in good standing. If the account is closed for any reason, all points that were accumulated but unused will be forfeited immediately.