Van Life 101: How to Eat, Pray, Love & Save Money
Life on the open road isn't what it used to be. Gone are the days of "roughing it" with an unfolded map, traveling pit stop to payphone*. We live in an incredible time to be a wandering heart now that a comfortable life on the go is an option for many.
With the rise of remote work, non-traditional living is trending. But, if you want to leap into your nearest recreational vehicle or camper van, you may need more than a mobile hotspot and a head full of dreams. Take a moment to learn more about getting started and making the best of life on the road.
*Payphone: An archaic piece of technology consisting of a phone connected to a metal box in a public area that requires coins to make a call.
Your Van Life Starter Pack
Starting a location-independent lifestyle requires a few things before you head out. This can be an incredible experience, but only if you have a plan! Before taking off, have you considered your budget for…
🚗Your vehicle
📻Internet
🍕Food & essentials
⚡Power & facilities
📜Maintenance & vehicle insurance
Plus, you'll need to determine what to do about your current living arrangement!
Do you have a rental agreement that could allow months away on the road? If not, should you rent out space to store anything you might want later? Or maybe you need to coordinate a yard sale to add a little cushion to your travel funds? If you own a house, you could have a side hustle and rent it out.
Transitioning from stationary living to life on the road can be expensive and time-consuming, but
not impossible. You just need to map out the route to success that works for you.
Your Four-Wheeled Companion

Whether you give it a cute name or not (Woody, Roadster, Big Hoss, etc.), a ton of your van life will revolve around your vehicle. This is what you're going to drive in, sleep in and live in for however long you live on the road— you've got to find a perfect match for you and your expectations.
Outside of any specific brands, the rule of thumb that "you get what you pay for" can often be true in your vehicle. So, just be prepared to put some extra love into that fixer-upper. Between vans, RVs, and custom conversions, prices can vary so wildly that your best bet is to nail down the potential pain points you want to address in your van life ride:
👀Privacy
🛏️Amenities
💻Power needs
👐Space
⛽Gas efficiency
Test Drive Before You Buy
Buying or financing a vehicle of this size is a big investment for most, but there is always the option of short- to long-term rental. Taking the time to test drive and live inside a recreational vehicle can give you the knowledge you need to make the best of your van life!
---
Take a two-week staycation across Oklahoma in a rented RV! This can give you an idea of how the vehicle handles most climates and whether you like it or not. Oklahoma also has a ton of convenient RV parks to keep you and your investment snug and secure overnight. Taking the time to do a trial run can give you a sneak peek at what to expect from long-term mobile living.
---
Emphasis on making a plan! Unless you are experienced and comfortable being outdoors "in the elements," you'll want to ensure you aren't putting yourself at risk (or at least in profound discomfort). You may be someone who can thrive with four doors and a portable grill, but make sure you know that for a fact and plan accordingly!
Van Life Hacks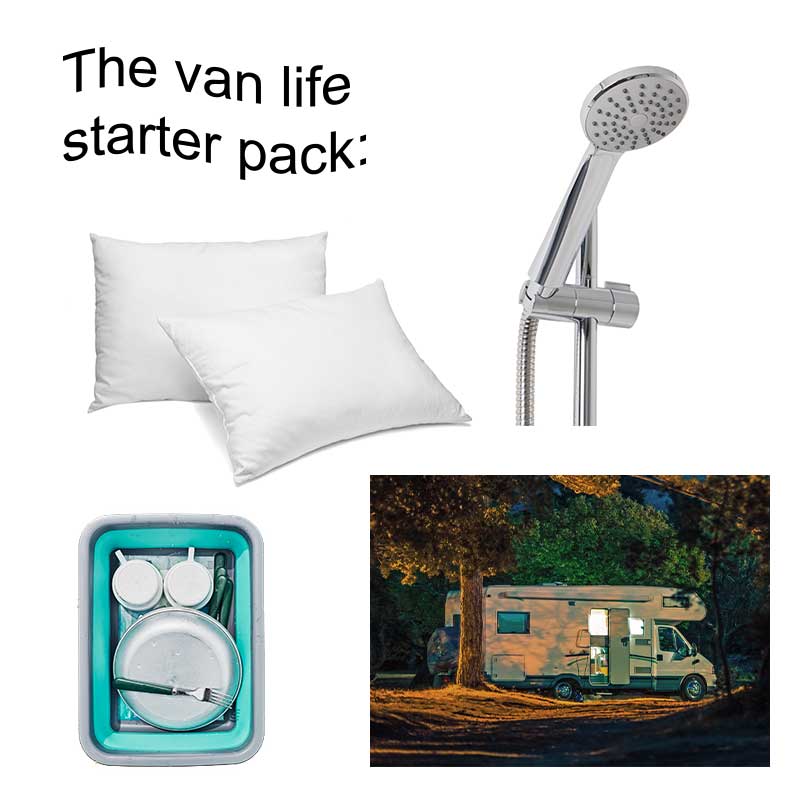 Obviously, you will not have access to all of the same amenities that you have available in an apartment or home while you're on the road. Some aspects of your previous life are less important to account for (i.e. a guest room), but there are others that are essential to your health and those around you (i.e. showering).
Showers > Stink
In reality, where money doesn't grow on trees, your roaming residence might not come equipped with a jacuzzi tub. So, planning on where and when your next shower will be, is likely going to factor into your travel plans.
Here are a few ways to account for regular showers on the road:
🚿 Some national gym memberships allow you to take showers at any of their locations (thank you, Planet Fitness) 🙏
🚿 Camping shower rigs can be purchased at many of the big outdoors stores and offer a more private bathing experience (depending on where you choose to set it up)
🚿 Body wipes and dry shampoo are great for a quick refresh (but they are not a substitute!)
Packages 📦, Pancakes 🥞 & More 🤷
Food has no shortage of smart life hacks while on the road. Restocking your perishables can happen pretty much anywhere, but there are other things that require a bit more planning.
For anything you can order from Amazon (which is pretty much anything), you can forward deliveries to designated drop locations that are on your way to the weekly grocery store run.
If you are planning breakfast at a local restaurant, it doesn't hurt to check their policy on overnight parking. Many offer overnight parking to travelers for this exact reason, meaning you can wake up to the smell of breakfast and be on your way.
Online and in your travels, you'll find many other tips that can add up to an easier time, but they aren't going to keep the convoy rolling! Trends can be capitalized on, but you've got to plan your life on the road just like any other. That can mean staying frugal and— more importantly, looking ahead!
The Long Haul
Mindful and present living is at the core of van life, but sustaining and fully appreciating the experience can't happen without a plan. Think about the "future you" who might run into mechanical issues or another frustrating impasse. How will that experience impact your finances and mental health?
Whether you're looking to actually achieve the "new year, new me" with a lifestyle switch or life has landed you in the perfect spot to start living on the road, this isn't something that should happen overnight. Do your homework, take stock of your financial situation and make a plan that works for YOU! 🫵
You want to smell the lake in the air driving over Eufala and not have to think about mysterious rattles and upcoming expenses. After all, isn't looking toward the horizon part of the experience?
The information and topics features are for information purposes only and does not constitute legal, tax or financial advice. All financial situations and circumstances are different and may not apply to the specific information provided. Seek the advice of a financial professional, tax consultant, or legal counsel to obtain guidance specific to your needs.